Sep 13, 2021
This week best-selling author and next generation thought leader Kute Blackson joins me to discuss his latest book, "The Magic of Surrender". Tune in to learn why the process of surrendering to your true path brings more freedom and authentic joy into your life.
QUOTES
"The degree to which we are conditioned, is the degree to which we are not free"
"Pain is a beautiful gift...it doesn't mean I seek pain...pain is showing us where something is off"
"When we hold death close, we're reminded of what's really important...and what is really important is love"
Resources:
Get "The Magic of Surrender" by Kute Blackson
Connect with Motherhood Unstressed:
Sponsored by:
Lugz - Use code Unstressed to save
Motherhood Unstressed CBD - A better vibe is just a click away. Use code Podcast to save
Want more? Check out some of our most popular past episodes!
"Somebody Feed Phil" Phil Rosenthal
Holocaust Survivor William Harvey
The Way of Integrity with Martha Beck
Bark Technologies with Titania Jordan
Activating the Vagus Nerve Meditation
About Kute Blackson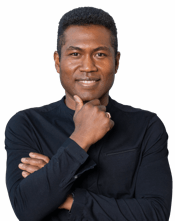 Kute has been recognized as the "Mindfulness guru that billionaires go to for advice" by Inc Magazine. See full article here.
A beloved inspirational speaker and transformational teacher, Kute Blackson offers a fresh, bold look at spiritual awareness for a whole new generation. Born in Ghana, West Africa, Kute's multicultural upbringing as the child of a Japanese mother and a Ghanaian father has spanned four different continents. His unique lineage lay the foundation for his approach to breaking down barriers and unlocking an individual's true gifts and greatness.
Kute quickly learned that the "outside-in" approach favored by so many in the personal development space had to become an inside-out approach. So he decided to create his own method—a process that liberates the individual and the true self at the core and then pushes those gifts outward into the universe. This helps the individual get in touch with who they really are. It is a process of breaking free—so that the individual can live, give, and share the truest expression of their self. This is what Kute calls "Liberated Living."